Welcome to Garden Mosaics
We specialise in individually handcrafted decorative stepping stones and wallhangings made using hand cut tile inlays. Each design is also available as a kitset ready for you to use in your own creations. Each piece of tile is cut and ground before being embedded in concrete in the case of a paver or glued with tile adhesive to a weatherproof backing for the wallhangings, the surface is grouted and left to cure before it is ready to put outside. The pavers can be placed among other paving(40mm deep),or used as a stepping stone dug into the lawn or garden, to brighten up an otherwise dark or less colourful spot. If you would like a different coloured background the only limitation is the colour of tiles available. Just ask!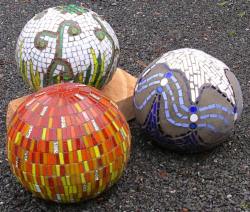 All of the native birds that are used in the pavers are available as kitset as well as a number of other creatures some with handpainted faces. If you would like something special made I am more than happy to discuss your requirements. Check the gallery to see some of our other projects.
You can contact me at:darienne@gardenmosaics.co.nz
Most products that I have for sale are currently listed on Trademe